REACH OUR LARGE
CUSTOMER BASE

PERSONALIZED SHOP
Choose your own banners
and set your own prices

INTUITIVE SELLER CENTER
Control pricing, create content &
monitor performance

TAKE YOUR BUSINESS ONLINE
More than 8 in 10 consumers have
made a purchase over the internet

COMMUNITY ENGAGEMENT
& MARKETING EXPOSURE

MULTIPLE SECURE PAYMENT
METHODS AVAILABLE

FAST AND RELIABLE
DELIVERY SERVICES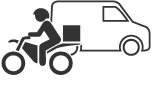 LEARN FROM OUR FASHION
EXPERTS AND DATA SCIENTISTS

IT JUST TAKES 4 SIMPLE STEPS:

1. SET
YOUR SHOPFRONT
Choose your own banners
and set your own prices

2. TAKE
A PHOTO
Snap a photo of your
item in good lighting

3. UPLOAD
YOUR ITEM
Set your price, stock level &
write a compelling description

4. RECEIVE $$$
& SHIP YOUR ORDERS
You'll be notified when your item
is sold. Pack your item and send
it out!
LEAVE YOUR DETAILS TO RECEIVE YOUR STARTER PACKAGE.
We will get in touch with you within 7 days.